Asset prices include land, housing, offices, commercial, industrial and infrastructure real estate, commodities (including food, petroleum, energy and water), financial assets including shares, precious metals and rare art objects. QE drives the prices of these assets upwards and eventually these prices work their way into costs on the supply side as well as prices faced by constituents and companies in the price and rentals of houses and commercial properties in general. The creates cost push inflation leading to rises in the prices of goods and services.
Since QE funds have gone into assets rather than investment and raised productivity the movement in wages has been sluggish to non-existent resulting in a constant decline in purchasing power in the face of price rises. As long as the government pursues this financialization policy, now for force for 46 years and intensified with QE during the last 12 years, this real incomes trap will persist and affect a growing proportion of wage-earners. As it progresses it will affect a larger proportion of middle income constituents and not just lower income segments. In order to remove this real income trap there is a need to introduce a Real Incomes Policy.
Real Incomes Policy
RIP has two macroeconomic policy instruments:
RIP bases policy impact and success on the knowledge and calculations made by the economic actors thereby solving the calculation and knowledge problem in an operational structure that more closely approximates participatory constitutional economics. For further information on these effects see the document
"Why Monetarism doe not work"
and
"Why the purchasing power of wages fall"
.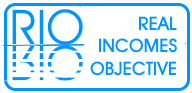 ---
1
Hector McNeill is director of SEEL-Systems Engineering Economics Lab
---
All content on this site is subject to Copyright
All copyright is held by © Hector Wether ell McNeill (1975-2021) unless otherwise indicated