The risks of maginalisation of smallholders under Agenda 2030's Sustainable Development Goals
Hector McNeill
1
SEEL
Over the last 50 years smallholders have become the main collateral damage of economic development on a worldwide basis. The causes are many. The principal cause is a lack of planning by governments with the intent of safeguarding the interests of smallholders; very often the lack of protection is intentional to favour those who support the interests of political parties and politicians.

More attention needs to be given to this issue within the Agenda 2030 framework because this will affect the wellbeing of around 20% of the world's population.
In 1963, I attended the very last lecture given by F.G. Sturrock the retiring head of the School of Agriculture at Cambridge University. He was a person with a very wide experience in applied agricultural economics and his approach was to provide some observations on states of affairs in agriculture which he considered to be important for young students, some of whom, might wish to work in the field of agricultural policy. He did not spend any time reviewing his own work but explained what was to him one of the most important issues in protecting the wellbeing of farmers. The message was very clear and easy to understand.
He explained that are areas of farming units needed to expand in order to remain viable during the normal course of economic development. In particular, he pointed out that those who were running smallholdings needed to transition to holdings of increasing size otherwise the trends in input prices (inflation) and the lags in compensation for falls in the value of the currency meant the "terms of trade" constantly worked against the interests of smaller farmsteads and the families they support. The trend to large farms meant that larger farms could compete more effectively leading to decline in the competitiveness of small farms. The normal migration from rural to urban settings of the younger generations to seek work meant that smallholdings in general face a trend of advancing age of those left operating the units.
Therefore, without policies and regulations assisting such smallholder transition to being able to secure and manage larger units, the prospects for this group of people were not good.
During the last 50 years, I have observed this process take place in several countries; Sturrock was right, this is a permanent problem for policy makers and it puts at risk the wellbeing of millions of people.
FAO-Food and Agriculture Organization, OQSI-Open Quality Standards Initiative and others have estimated that there are roughly 600 million agricultural units in the world although only around 570 million have been accounted for in formal and informal surveys in 161 countries. Of these something like 95% are less than 2 ha. in area and it is estimated that approximately 65% are of less than 1 ha. in area.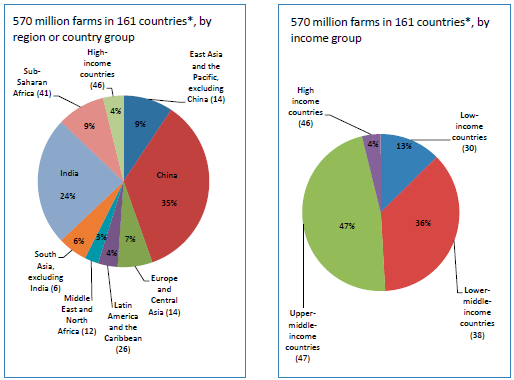 Lowder, S.K., Skoet, J. and Singh, S. 2014. What do we really know about the number and distribution of farms and family farms worldwide? Background paper for The State of Food and Agriculture 2014. ESA Working Paper No. 14-02. Rome, FAO.
Trends in inflation and likely levels of production associated with sustainable production systems, lead to an eventual marginalisation of smaller farming units for a general lack of income and food security issues associated with poor production years. This has been a constant driver of the rural-urban migration experienced worldwide. OQSI has estimated that the family members dependent on the output of these production units is between 1.50 billion and 2 billion individuals entering a potentially precarious state of existence. This is equivalent to 19%-26% of the global population.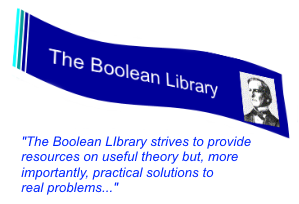 I recently updated a report for the OQSI's International Workshop on Analytical Tools (IWSAT 2019) entitled,
"The role of land in agricultural economic development", "Implications for agricultural analytical tools & information systems"
which reports in some detail on the problem of the declining viability of small units and emerging trend towards "land grabs". These have led to millions of people becoming economically marginalised within their own countries as a result of policy inaction. The evidence is based on the experience of several higher income countries providing ample evidence of the real economic implications for low income country agricultural communities.
This report will be available online at the Boolean Library as from 15th September, 2019.
The ecological-economic conflict
There are multiple ways and means to bring environmental and ecosystem sustainability to small production units. FAO have published copious material on this subject. However, the evidence shows that with economic development and the trends towards larger farms creates a real challenge arising from returns to scale benefiting larger farms even applying sustainable production systems. As a result they will be able to compete more on the basis of unit prices and from the ability to gain input price reductions because of their size. With time the terms of trade between industry, services and agriculture tend to disfavour smallholders more than larger farms resulting in smallholder relative real disposable incomes declining.
Biofeedstocks and food conflict
Brazilian experience demonstrated cases of agricultural output in the form of feedstocks destined for industrial complexes such as oil and bio fuels resulting in local food producers being marginalised as the corporations concerned became more assertive in attempting to purchase land at unrealistically low prices from smaller land owners so as to consolidate the land and benefit from the windfall of significant rises in land values as an asset.
Agenda 2010 Goals concerning land and associated indicators
Agenda 2030 Sustainable Development Goals do refer to land ownership in three specific SDGs. These are shown in the table below.
Goal

Subsection

Indicators

SDG 1: End poverty in all its forms everywhere

1.4 By 2030, ensure that all men and women, in particular the poor and the vulnerable, have equal rights to economic resources, as well as access to basic services, ownership and control over land and other forms of property, inheritance, natural resources, appropriate new technology and financial services, including microfinance

1.4.1 Proportion of population living in households with access to basic services

1.4.2 Proportion of total adult population with secure tenure rights to land, with legally recognized documentation and who perceive their rights to land as secure, by sex and by type of tenure

SDG 2: End hunger, achieve food security and improved nutrition and promote sustainable agriculture

2.3 By 2030, double the agricultural productivity and incomes of small-scale food producers, in particular women, indigenous peoples, family farmers, pastoralists and fishers, including through secure and equal access to land, other productive resources and inputs, knowledge, financial services, markets and opportunities for value addition and non-farm employment

2.3.1 Volume of production per labour unit by classes of farming/pastoral/forestry enterprise size

2.3.2 Average income of small-scale food producers, by sex and indigenous statuss

SDG 5: Achieve gender equality and empower all women and girls

5.a Undertake reforms to give women equal rights to economic resources, as well as access to ownership and control over land and other forms of property, financial services, inheritance and natural resources, in accordance with national laws

5.a.1 (a) Proportion of total agricultural population with ownership or secure rights over agricultural land, by sex; and (b) share of women among owners or rights-bearers of agricultural land, by type of tenure

5.a.2 Proportion of countries where the legal framework (including customary law) guarantees women's equal rights to land ownership and/or control
Comments
The issue of land in Agenda 2030 is addressed in a disparate way assigning it to sections of Goals in a simplistic way that does not address the urgency and risks facing smallholders that have been outlined above. There is no mention of the needs for consolidation. This topic requires considerable review and stronger actions supported by enforceable regulatory and legal frameworks that have as their central role the safeguarding of inheritance rights for poorer sections of communities organised in a way that consolidates land holdings for smallholders so that future generations have a higher likelihood of either selling land at realistic and compensatory prices or becoming members of larger consolidated operations that can be competitive.
Land speculation and young prospective farmers
A considerable amount of the incentive for corporate interests to become involved in legal and illegal means to secure multiple small units is that the differentials in land prices between small units and aggregated large land areas is significant. Therefore a strong motivation for corporations is land price speculation. Sometimes the companies concerned have no intention of farming the land purchased but are simply carrying out an invesment with a view to gaining from capitalization under inflation and reselling the land at a substantial profit. This accelerates a land price bubble leading to a problem for young prospective farmers being unable to save enough money to purchase holdings at inflated prices. Raising loans to purchase an medium sized holding runs the risk of losing the asset if initial production years face unsuitable weather conditions and lower yields. As a result the future for family farms can become precarious.
The lamentable track record of governments
Unfortunately, the historic evidence shows that it is difficult for both governments and local communities to gain a control over these processes which can advance through both legal and illegal means. Most of the past land-grab activity that has affected smallholders involved illegal contracts, pressure, coercion and sometimes violence, leading to people not being compensated at realistic levels when they gave up their land. In many cases politicians have been instrumental in the organization of land banks designed to help in land swaps and consolidation of smaller plots. However, in many cases the politicians themselves took advantage of their power to amass considerable land holdings for themselves and their families. Political parties have also been involved in gaining such assets.
In many cases the claims on land both legitimate and illegitimate have resulted in violence and disruption of smallholder communities.
Who is at risk?
The process of land-grabs invariably involves older individuals and couples whose children have migrated to cities to find work. Sometimes the children have no interest in the land question because of the very meagre returns obtained on such small areas. As a result a very large group of older people are at risk of losing their livelihood and being unable to secure alternative means of living and facing difficulties in retraining linked to their age. The smallholder group on areas of land of less than 2 ha. is some 500 million people, all of whom are aging.
Leading up to 2030 and beyond, this challenges will become more intense and available land resources are used up. There is therefore a very significant challenge to the SDGs concerning hunger, poverty and inequalities tied up in this issue. There is an urgent needs for effective change strategies and actions.
Proposals to reduce maginalisation
This report contains proposals for ways to reduce the economic and budgetary stress that can arise from the situation and recommends a coherent system for land consolidation that strengthens, rather than weakens the economic status of small land owners. This system depends upon specific data collection under an agricultural information system and projects created in support of this process can benefit from specific analytical tools to ensure the design of feasible consolidation projects.
Besides the consolidation process the way in which this is carried out facilitates collaborative value-added actions related to post-harvest processing, storage and marketing infrastructures to moderate the flow to market while maintaining better unit prices. Shared strategic reserves can feature as an assurance against poor production years and cooperative seed banks can help reduce operational costs.
The complex nature of land consolidation and the rising urgency of this problem was the reason for this topic being one of the themes of this first IWSAT. An example of a consolidation analytical tool was demonstrated. This was an upgrade of the ALCC-Agricultural Land Consolidation Cooperative model, first shown at the 2nd DAI (Decision Analysis Initiative) meeting in 2010. The ALCC model includes forward contracting of assignment of land to a mutual corporate structure to arrange a fair price for elderly owners or a transfer of shares in the mutual to family members on the decease of the last operators. The mutual operates on strictly commercial grounds and is profit based aiming to increasingly optimise production as the land holdings increase in aea. A new design making use of different programming techniques and design configuration will be developed by SEEL-Systems Engineering Economics Lab to add to the SDGToolkit
2
library of online tools. This will involve a high degree of functional integration so as to create a single action tool that generates a comprehensive output, including fully costed projections. The prototype will be circulated for online reviews in September, 2019.
Another interesting analytical tool in the SDGToolkit is one that calculates, for a given location, the optimum minimum size for consolidated units based on gross margins, seasonal yield variations and projections that calculate future real costs, likely output prices and realincomes.
---
1
Hector McNeill is Director of SEEL-Systems Enginneering Economics Lab.
2
SDGToolkit is a library of online analyticl tools to support project design for Sustainable Development Goals.
All content on this site is subject to Copyright
All Copyright is held by © Hector Wetherell McNeill (1975-2015) unless otherwise indicated